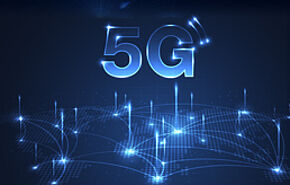 The ANFR is publishing a simulation of wave exposure created by mobile telephony in dense urban areas taking into account the envisaged changes to 4G and 5G
19/10/2020
The National frequency Agency (ANFR) is publishing the results of its simulation work in a very dense urban area, the 14th district of Paris. It shows the first order of magnitude of increased exposure that 4G optimisation or 5G would require.
This study is part of the general work on the assessment of exposure to mobile networks in dense urban zones carried out in particular by the national committee for dialogue on public exposure levels to waves. Carried out jointly with the Building Scientific and Technical Centre (CSTB), it analyses the first scenarios that would make it possible to meet the increasing user demand for mobile connectivity. In this intermediate report, four scenarios were studied:
the "Initial state" scenario reproduces the current state of mobile networks in the district;
the "optimised 4G " scenario studies 4G optimisation which would make it possible to absorb part of the increased traffic without deploying 5G;
the "5G only" scenario models exposure caused by 5G in the 3.5 GHz band;
the "5G upper bound" scenario combines the "optimised 4G" scenario and the "5G only" scenario to take stock of a theoretical situation in which all available frequencies were to be used to the maximum of their possibilities.

These first results highlight several points:
without 5G, the exposure of the general public to waves would carry on growing to meet the increasing demand for mobile connectivity in dense areas: +70 % compared to the current situation;
even in a theoretically upper bound configuration, the levels remain very low compared to the limit values set at between 36 and 61 V/m: the average exposure level is thus estimated at 2.30 V/m outdoors and 1.30 V/m indoors;
the increased exposure due to 5G in the 3.5 GHz band would remain moderate due to the beam steering antennas: the average contribution of 3.5 GHz 5G would be 1.36 V/m outdoors and 0.76 V/m indoors; moreover, even though the 3.5 GHz band will increase operators' frequency assignments by about 50 %, it would only contribute to 30 % of the increase of exposure in the most unfavourable scenario.

The next steps in this work will be to refine the deployment scenarios in terms of the technology and powers used in the different frequency bands open to mobile telephony. Exposure will thus be more accurately simulated.
Appendices:
Diagram positioning the scenarios from this study and those for future studies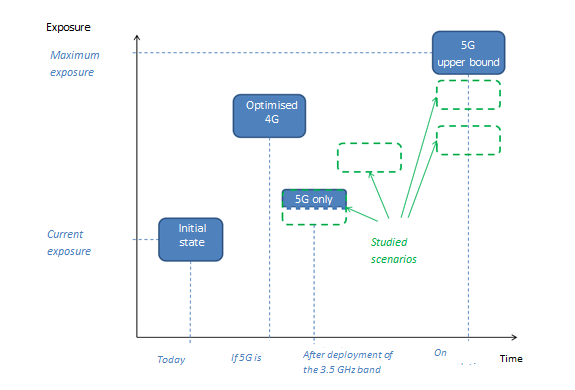 Table summarising the simulated exposure levels according to the different scenarios
For further information:
The full ANFR report on the wave exposure simulation work
The government report on 5G deployment in France and worldwide: technical and health aspects (in french)
For more in-depth study:
General presentation of 5G (in french)