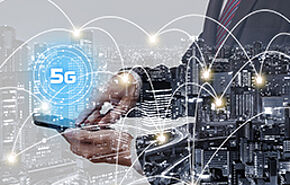 The ANFR has published the first results of measurements of public exposure to waves carried out before and after the 5G roll out on 1 500 sites in France
24/01/2022
The French National Frequency Agency (ANFR) has published an analysis covering over 3 000 measurements of exposure of the general public to waves carried out in 2020 and 2021. Half of those measurements were carried out close to sites identified for the installation of 5G antennas before they were commissioned. The other half of the measurements were carried out at the same locations after 5G roll out, thus allowing the precise identification the changes in exposure related to this new network. All the frequency bands currently used in 5G have been studied. The results show that exposure is comparable before and a few months after 5G roll out.
At the request of Cédric O, Secretary of State for Digital Transition and Electronic Communications, the ANFR launched a vast measurement program to characterise the influence of 5G on the level of exposure to electromagnetic waves in the 700 MHz, 2 100 MHz and 3,5 GHz frequency bands. For the record, the so-called "low" bands (700 MHz and 2 100 MHz) were already been used by 3G and 4G for many years. The new 3,5 GHz frequency band was authorised for use by ARCEP on 12 November 2020.
For the low bands, the first results show that the public's exposure to waves remains stable despite their adaptation to 5G.
For the 3,5 GHz band, the first results show a very slight increase in exposure, with the additional contribution of this new band being estimated at 0,11 V/m, which is low compared to the regulatory limit of 61 V/m for this band.
This frequency band reserved for 5G is unique in that it is equipped with new steered beam antennas that direct their exposure to nearby 5G users. In the current state of 5G roll out, few users are soliciting the network and therefore exposure is reduced. The ANFR will therefore continue its analysis in order to monitor changes in exposure as traffic increases.
Finally, in addition to the 3 000 measurements carried out using the regulatory measurement protocol, and considering the low level of 5G traffic at this stage of deployment, 370 5G sites were the subject of specific measurements in the 3,5 GHz band with traffic generated artificially by downloading a 1 Gb file. The first results show an average increase of 16 % in exposure. These results suggest an long-term increase in overall exposure of around 20 % in areas where the 3,5 GHz band is deployed, which should be compared to the 50% additional capacity that this new band provides to public mobile networks.
All the measurements carried out as part of this study are available on the Cartoradio website : www.cartoradio.fr
Plus d'informations